The Story of lucky labrador
When I was 12 years old, my best friend Andrew and I helped rally together a motley crew of neighborhood kids for a backyard whiffle ball league. It was baseball with a plastic bat and a plastic ball, but we were diligent; we set up lights to play night games, and kept track of all the statistics—hits, strikeouts, walks, home runs—in a spiral ring notebook. We thought we were pretty legit. But over in Portland, childhood friends Alex Stiles and Gary Geist have managed a slightly more elaborate joint venture: a series of several successful breweries and taprooms in the form of Lucky Labrador Brewing Company.
Although, as with any new business venture, there were no guarantees, Alex and Gary were far from unprepared amateurs when they set out to open Lucky Labrador in 1994. At that point, Alex had not only been home brewing for several years, he'd also worked as a brewer at Bridgeport, where Gary had also worked, pouring beers behind the bar. In addition, Gary had spent a few years working at a financial firm, and in his work there, had crunched the numbers for another new brewery, one that his boss was overseeing the foundations of. With their experience both in business and on the brewery floor itself, the boyhood friends decided they would open a brewery together, and Lucky Labrador was born.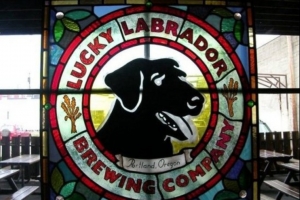 Stiles and Geist found an empty warehouse for lease on Portland's Hawthorne Boulevard, gutted the place themselves, and set out to brew their beers. Those beers, it turns out, are damn tasty—and the Portland public agrees. Today, Lucky Labrador has four different locations in the Portland metro area, and their beers can be found around the globe. But some things have stayed the same; twenty years after the brewpub first opened, Alex Stiles can still be found amid the mash tuns and brew kettles in Lucky Labrador's original location on Hawthorne, brewing up some of the old stalwarts of the past two decades, as well as some new concoctions.
the beers of lucky labrador brewing co
Super Dog IPA
In terms of popularity, this beer is the big dog of the bunch. But that reputation is no throw-away bandwagon; Super Dog is an exceptional India Pale Ale. The malt is lighter than some other IPA's, but that lightness let's the hop flavors truly shine through. There's a subtle grapefruit aroma, but the primary hop notes here are a pleasant bouquet of pine, which comes through on the palate as well as in the nose. The pungent aroma comes form a hefty load of hops: Super Dog is dry-hopped with no less than a full pound of hops per barrel, and measures more than 90 IBU. At 6.5% alcohol, it does have a bit of bite, but won't bowl you over like some other higher alcohol IPA's. If you're a hop-head through and through, then Super Dog and its prominent cascade hops should be in your crosshairs, and in your glass.
Reggie's Red
If anyone has ever told you that West Coast beers in the USA are all hopped-to-hell, then point them to this smooth brew, and set them straight. Brewed with Belgian caramel, chocolate, honey, and crystal malts, this 6.0% red ale has a great color, pouring a rich russet in the glass. Although there is a small amount of hop bitterness on the palate, it's not terribly prominent, unsurprising with the beer clocking in at 37.6 IBU. The mouthfeel is rich and smooth, not as much heavy velvet as you might get in a stout or a porter, but more than enough malt to let the finish linger. And what a finish—a pleasant malt sweetness with notes of caramel and toffee, complex but not at all cloying.
Dog Day IPA
For the slightly feinter-of-hop-heart, or just for those who want to pound a few without pulverizing their palate with alpha acids, Lucky Labrador's Dog Day IPA offers a more sessionable alternative to Super Dog. Unlike Super Dog—which is a perfect example of the Pacific Northwest's hopped-up India Pale Ale style—Dog Day is a British IPA, the West Coast IPA's milder forebear. The malt sweetness is ever so slightly more pronounced, but it's enough to give this beer a more balanced feel; with 82 IBUs, Dog Day's alpha acids are there, but the difference in malt and dry hopping means they don't quite kick you in the teeth the same way that Super Dog's totally dominant hops do. This 6.4% IPA is for knocking a couple back without crushing your palate in acid, a pleasantly bitter beer that you can enjoy and not bring the pH of your mouth down to 3.
The Last Word
With its deliciously audacious dry-hopping, and its resultant incarnation of the oft-beloved West Coast IPA, Super Dog might be Lucky Labrador's bestselling brew, but this brewery is no one-trick poodle. With roughly 30 different beer styles in their arsenal, Lucky Labrador Brewing Company have a well-crafted pint for every palate. From the thick and creamy Black Lab Stout, to the Super Dog's intense hops, to the sweet malt of Reggie's Red, the folks at Lucky Labrador might seem to have all their bases covered, and covered well. But they aren't done yet.
Lucky Labrador may have been brewing up great pints for more than two decades, but with new beers like the 20th Anniversary IPA, or the Chopper, a gluten reduced beer that is anything but flavor-reduced, this dog still has some new tricks!