I've said this before, and I will say it again: Craft beer is the drink of dreamers.
Like the world of dreams, craft beer knows few rules. Because most breweries are small businesses, they have more freedom to do what they want. They have liberty to try new things because of their size. When an idea strikes a brewmaster of a small, craft brewery, he or she can act on it pretty simply. That's why there is such a wild and varied landscape of craft beers. Anything goes.
That brings me to Coconut Curry Beer. Did I mention that anything goes? I did? Oh good.
Unusual brews are not uncommon anymore, but sometimes a certain variety makes you laugh out loud as you're walking down the aisles of brown bottles and cardboard six-pack boxes. This very event happened to me. I recall I audibly gasped, not only because this beer variety was unique and promised to be a taste bud party, but because, not four hours ago, I had researched this very beer for this very article. This is what I call fate in my life.
Ballast Point Brewing Company's Indra Kunindra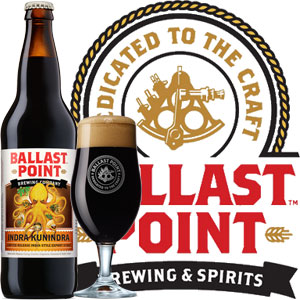 The beer that I ended up buying was Ballast Point Brewing Company's Indra Kunindra. The variety on the label names it an 'India-Style Export Stout.'. While there is obviously no mention of 'Coconut Curry' in the title, my attention was seized by the label's bright yellow octopus holding multiple spice in each tentacle and the description in almost fine-print said, "Stout with Madras Curry, Cumin, Cayenne, Coconut, and Kaffir Lime."
Intrigued? I was.    I'm going to pour myself a glass of this beer right now, so that I can give you an idea of what it's like to experience a new frontier in real-time.
Holding the drink up to my lamp,  I notice that the light barely passes through, but when it does it's a dark ruby color. There is barely any foam atop the beer, and no lacy pattern of foam at the surface. The smell gives you a hint of what's going to happen next…it's spicy and bright.
Stouts run the range of sweetness. Some have stronger barley notes, lending them a sweeter flavor, and others are strong on hops. This stout, the Indra Kunindra is not sweet. The initial flavor I am met with is the kaffir lime and the curry. Cumin is there too, quietly, in the distance, and my throat brightens with a flash of cayenne pepper when I swallow. There's no obvious flavor of coconut, but it's there, because without it the beer would be too spicy to enjoy.
I'll say this as a matter of opinion: the beer is intriguing and very good, but I don't want to finish it. (But that's too bad for me, because I don't waste and I have a lot left.)
If you notice comments left on beer rating websites like Beeradvocate.com, Ratebeer.com, and Craftbeer.com,  many unusual beers have this polarizing effect on people. Either people love these wild varieties, or they hate them. And sometimes the same person both loves and hates the same beer.
New Belgium Brewery's Coconut Curry Hefeweizen
A different take on this unusually spicy brew comes from New Belgium Brewery's Coconut Curry Hefeweizen. If you know anything about beer, you'll know that a stout and a hefeweizen are very different things. One punches you in the face with flavor, the other pats you gently on the cheek and starts a game of tag. Because a hefeweizen is a friendlier, more approachable variety of beer, I am certain that this version of Coconut Curry beer is much easier to handle. Hefeweizen is made with wheat that emits the sweet flavors of banana in the brewing process, thus lending itself very well to the flavor of coconut. New Belgium also adds curry spices, cinnamon, coriander, fenugreek (what the heck is fenugreek), and kaffir limes. I'd be interested to try these beers side by side and note the differences. I'd also be interested to try these beers on a beach somewhere. Or I could try them in a boring place and bring the beach to me.
When you're taking a risk, you're not going to please everybody. The goal is to test limits, push boundaries, and go where no one has gone before. Craft brewers are doing this. It's quite exciting to taste what they've created out there in the ferocious distance, under the wild night sky, on the lawless frontier of beer.