Merry Christmas and Hoppy Holidays, readers!
May your coming year be filled with wild happiness, unexpected strangers, death-defying adventure, spontaneous kissing, delicious food, financial success, spewing creativity, and quality craft beer. 
While I know nothing of financial success, a little about spontaneous kissing, and a lot about creativity, beer is king here.
It's the Christmas season, a time when the air is cold but hearts are warm, and the best way to have your heart be warm all the time is to drink beer all the time. Honestly … it's hard to be annoyed at someone when you have a bottle of stout in your hand.
Christmas or holiday style beers are characterized by spicy notes. Before the Industrial Revolution modernized beer brewing, beers brewed in the winter months were aged in oak barrels, adding to a richness that influenced the flavors, and continue to do so. Christmas beers are seasonally brewed for imbibing during the holidays, or during the wintry weather in a number of countries. These beers are usually strong — and depending on the country — often spiced with a variety of unusual ingredient. Christmas beers also might be heavier and dark, because in winter, we can hide all our extra physical bulk under lumpy sweaters. Bikini season is far, far away, kids. Let's maximize. (Literally.)
christmas beers to spice up your heart
Here are some quality Christmas beers to spice up your heart, heat up your life, and create a party in your face.
I'm going to start this with a stout, of course, the only kind of beer worth drinking. (Totally a matter of opinion, feel free to defy me.) Samuel Adams Merry-Maker Gingerbread Stout is a lustrous imperial stout characterized by the sweet spice of ginger. This friendly heat compliments the sugary barley wort inherent in stouts, along with syrupy molasses notes. Sip slowly…there are also traces of smoke. The perfect beer to drink while you're reading beside a fire, or sledding down a hill at high speeds.
Anchor's Merry Christmas Happy New Year is such a friendly beer. The title alone conjures images of smiling at everyone in the room, twinkling Christmas trees, and bow ties. This is a beer that's sold only from November to the middle of January, and the recipe  changes yearly. One mainstay of the flavor, though, is spice. The good folks at Anchor use cinnamon, cardamom, and nutmeg in the wort, giving the carmelly ale intrigue and coziness. The Anchor brewers wish their beer to be a about "joy and a celebration of the newness of Life." How delightful!
The flavor of Port Santa's Little Helper is anything but little. If Santa were into big, bold, powerful helpers, this beer might apply to them, because the flavors of this imperial stout are as in-your-face as getting locked out of your winter cabin in just your underwear. The aroma and taste of the Little Helper is rich, with strong notes of cocoa, toffee, vanilla, and bourbon. Oh, baby! I'd run around in my underwear for that, in any weather.
If you're not a true fan of craft beer, and prefer mulled wine when at winter parties, Southern Tier 2XMas might be the beer that wins you over to our happy, tipsy side. The 2XMas was inspired by glogg, a hot mulled wine native to the Scandinavian countries. Brewed with figs, orange peel, cardamom, cinnamon, ginger root, and clove, this beer is a veritable cornucopia of winter warm flavors. It pours a warm, ruddy color, and will get you in the holiday spirit after the first sip.
The brewers of Corsendonk Christmas have mastered what some believe to be the ultimate Christmas ale. This beer is a Belgian Strong ale, and is probably what Santa drinks after he's delivered all the gifts and wants to forget all children everywhere. The Corsendonk Christmas is brewed with Belgian candy sugar, caramel malt, and those classic winter spices. Created is a perfectly balanced winter ale ideal for looking out the window as the first snows fall, smooching a hot stranger under the mistletoe, or toasting the new year with your grandma.
If you've ever considered nude sledding, but think it'd best be done a little drunk, drink the St. Bernardus Christmas Dark Ale to give you a push. With a lusty 10% alcohol by volume, if this beer can't fling you headlong into the holiday spirit, I wonder if anything can. Characterized by sweet dark malts that are just sweet enough and a mustache-inducing froth, this is the perfect beer for a wild Christmas party.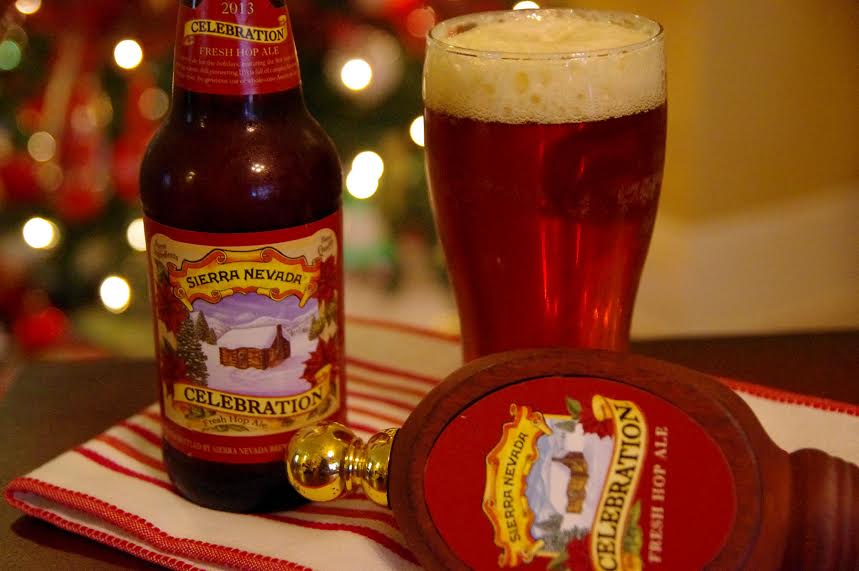 And if you hate Christmas, hate cold weather, and have a poster of Ebenezer Scrooge on your ceiling, consider Sierra Nevada's Celebration. This IPA will take you to beaches and rays of sunlight with its notes of citrus. West coast hops give a tangy, bitter flavor that isn't a traditional winter beer, but there's a Christmas tree on the label, so it still counts.
Each season of the year popularizes different beers, and if you like sweet and spicy beer, buy it now. It'll be hard to find these Christmas ales and stouts in summer, when IPAs and light beers rule the aisles. (One reason I loathe summer).
But no matter your beer tastes, I truly wish you a Hoppy Christmas and exciting New Year. I wish you that this year, and every year hereafter, you are able to find the blessings of life, both hidden and obvious, everywhere you go.
*raises glass of stout*
May you live every day of your life!
*drinks stout.* *gets another* *and another* *and another* *goes nude sledding*