Caldera Brewing
From medieval monks to the new millennium, sustainable beers are a thing of both present and past. But in the present, the folks at Caldera Brewing in Ashland, Oregon are standard bearers for green craft beer production
The Story
Those who would call beer an unsustainable beverage are poor students of history. From ancient Mesopotamia to Medieval Europe, beer has been a staple beverage for ages. With the addition of hops—a natural preservative—to European brewing during the Carolingian era, probably sometime in the Tenth Century, beer could be kept potable for even longer periods. Sure, it can lead to black outs and beer bellies, but just ask the monks who fasted through lent with nothing but beer to nourish them: a few pints can even be conducive to religious experience!
Beyond the cloister, the folks at Caldera Brewing in Ashland, Oregon are taking sustainable brewing to a whole new level. Having worked as a brewer's assistant at Rogue, Jim Mills founded Caldera in 1997, and serves as the head brewer to this day. Although the brewery had green, sustainable practices in its crosshairs from the outset, as its popularity grew, they gained the funds to truly prioritize green practices.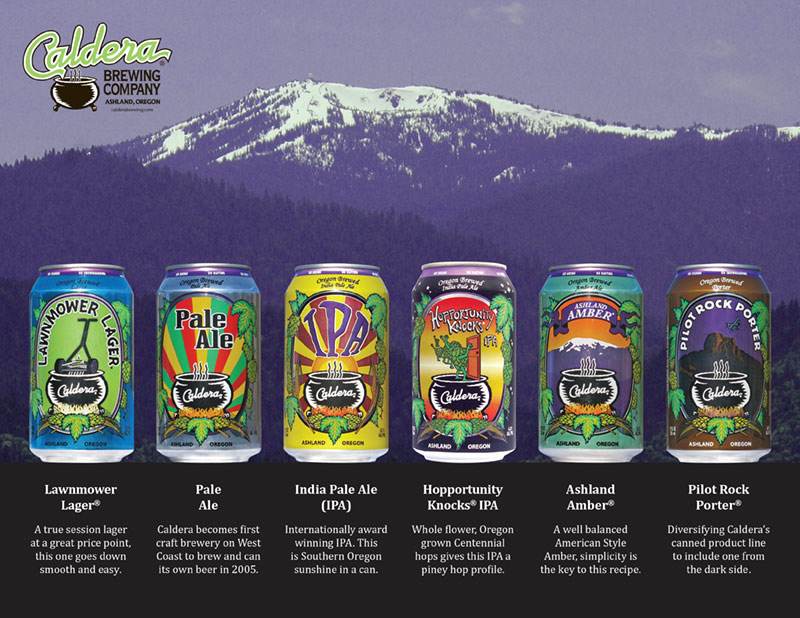 In 2005, Caldera became the first craft brewery in Oregon to begin canning its beers—a practice that has now become commonplace. In addition to lighter packaging, and thus a smaller carbon footprint for distribution, caldera's cans are 100% recyclable aluminum. And that's not all: cans, as opposed to bottles, help preserve the flavor of a beer, blocking light from contacting the brew. This is especially important for IPA's, as light kills hop flavors, and thus the less light, the more hops.
But Caldera's commitment to sustainable beer production isn't limited to the canning line. During the brewing process, Caldera's brew system conserves heat, and uses state of the art insulation, limiting the wasted energy in the process. Further, to heat their brew kettles, Caldera utilizes steam power rather than natural gas. After the beer's been brewed, all of the spent grain, hops, and yeast are composted. And they go a long way, too: the brewery's grounds are landscaped with exclusively low-water consumptions plants. In addition to their spent grain, they also compost all of the food scraps from the brew pub's on-site restaurant, and recycle all of the cooking oil for use as biofuel. From the first brew kettle to the finished product, Caldera Brewing is committed to sustainability. Hell, even the tap handles in their brew pub are made from scrap ash hardwood!
However, while green production is a great thing, it's important to also have a great product, and Caldera beers are just that. From Sydney to Denver, Brussels to Chicago, Caldera Brewing has won a myriad of awards; their trophy room is adorned with medals from Germany, Sweden, Australia, and the US. In fact, Caldera Brewing has won awards for its beer every year since the dawn of this millennium—and fifteen years in, they're still both going green, and going strong.
The Beers
Caldera IPA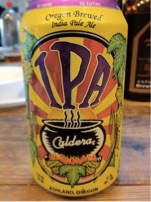 This India Pale ale sacrifices none of the hop intensity you'd expect to find in an American IPA, but boosts the malt profile too, giving it an excellent balance. Although the hops are intense, coming in hot at 94 IBUs, the malt keeps this beer from being a total hopped up palate wrecker, making it a remarkably drinkable IPA.
The malts—Two Row, Munich, and Crystal—give this beer a nice reddish amber color in the glass, while the Centennial, Citra, Simcoe and Amarillo hops provide an aroma of pine and citrus. The balance between malt and hop in this 6.1% brew is not only remarkable, it's award-winning; Caldera's IPA was voted best IPA in the business at the 2012 Australian International Beer Awards.
Rose Petal Imperial Golden Ale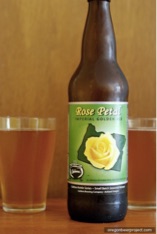 This beer might be called "golden," but in the glass, in the nose, and on the palate, it's anything but a Budweiser or a Carlsberg. This imperial golden ale seems fairly straightforward when it comes to hops and malt: it uses Two Row and Light Munich malts, and just one hop varietal, Willamette. However, the brewers at Caldera toss real rose petals into the mix, which of course add floral aromatics to the beer, but also give it a much darker color than you might expect with such light malts.
The hops are toned down, measuring just 16 IBU's, in order to let the aroma and flavor of roses stand out—and that's precisely what they do. If you're looking for a snifter off the beaten bar path, check out the bouquet on this one.
Mogli Oak-Aged Imperial Porter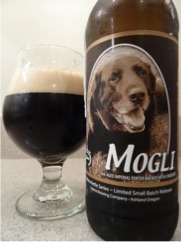 If the world truly is divided—light vs. dark, coffee vs. tea, Barcelona vs. Real Madrid—then in the battle of Hop Heads and Malt Fiends, this one falls squarely in the latter's camp. This 8.5 % beer is brewed with no less than six different malts: Two Row, Crystal, Munich, Brown, Pale Chocolate, and Chocolate. But that's not all folks: in addition, it's brewed with Dark Belgian Candi Sugar, and real chocolate, too. Finally, to finish it off, Mogli is aged sitting on bourbon-soaked oak spirals, adding a bit of bite—both in alcohol content and peaty flavor—to balance out the sweet malts.
Although the oak is certainly present, it's not as intense as other beers that are aged in oak barrels, as opposed to aged sitting on oak spirals. But if in the Malt vs. Hop battle, your camp is the tertium quid of Oak Mongers, never fear; Caldera also offers a "double-bourbon" version, one that is aged both on oak spirals, and in bourbon barrels as well.
Still, despite the oak adding something extra, the final product is nonetheless filed squarely under "Malt Fiends Look No Further." The Galena and Willamette hops aren't non-existent (55 IBU), but this bad boy is all about notes of chocolate, coffee, and thick, creamy, malty mouthfeel. That's what it does best, and it does it damn well; in 2014, Mogli won Gold for Caldera at the Brussels Beer Challenge, as well as a Platinum rating from the Beverage Testing Institute in Chicago.
Discover the Caldera Brewing beers (and others) at The Hoppy Brothers