Brooklyn Brewery 
The Story
The founding of every brewery has a story, usually a great one, and often even an interesting epilogue. However, few craft breweries in the United States can boast as diverse a history as New York City's Brooklyn Brewery. Alcohol prohibition, mortar shrapnel, world-renowned graphic designers and, of course, fantastic beer: the tale of Brooklyn Brewery has a far greater scope than the single NYC borough which is its namesake.
Brooklyn Brewery's history can be traced back to the early 1980's, when Associated Press Middle East Correspondant Steve Hindy was introduced to home brewing—not as a hobby, but rather as the only way foreign diplomats in Saudi Arabia could legally get a beer. After five years traveling throughout the Middle East, Hindy was ready to return back to his native land, the United States, but not before his hotel in Beirut had been hit by a mortar attack. Steve picked up a shard of shrapnel, packed his bags and flew back to New York, his would-be deadly metal shard in tow as a reminder of his time in the Middle East.
Back in Brooklyn, and keen to reproduce the intriguing beers his home-brewing diplomat friends had produced abroad, Hindy joined up with his neighbor, Tom Potter, and the two conspired to open a brewery that would honor the borough in which they lived. If Steve Hindy's inspiration had had its origins in the Arabian peninsula, the venture he and Potter embarked upon was definitively a New York project. Utilizing New York grown hops and grain, the pair also decided to brew with the simplest and cheapest thing around: Brooklyn tap water. Now, if your image of New York City is of a gritty, less-than-cleanly sidewalk, do not let this fool you: they have some of the purest tap water in the world, tap water that has now, thanks to Hindy and Potter, been 'upgraded' to beer.
With some great beer recipes and a business model in place, Hindy and Potter set out to find a face for their brews. Unwilling to settle for anything but the very best, despite their limited budget, the pair of entrepreneurs approached iconic American graphic designer Milton Glaser. Perhaps most famous for his I <3 NY design, Glaser has designed logos for companies around the globe, and unlike many commercial graphic artists, has had the honor of being featured at the Museum of Modern Art in Manhattan. From the beginning, Brooklyn Brewery had high aspirations.
After a good bit of struggle, Hindy and Potter were finally able to secure a brief, five-minute meeting with Glaser. That meeting went from minutes to hours, and by its end, the three men had struck a bargain that would see Glaser supplied with beer to his heart's content for the rest of his life, and would see Brooklyn Brewery provided with some of the most storied, recognizable brand artwork in the world of craft beer.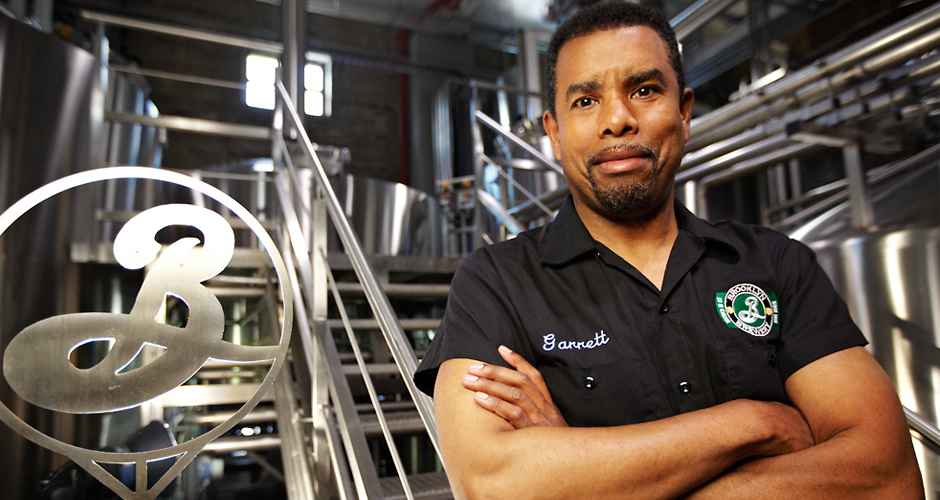 Then, in 1994, Brooklyn Brewery added to their iconic artwork an iconic brewmaster: Garret Oliver. Then the president of the New York City Homebrewer's Guild, Garrett Oliver met with Steve Hindy, described an idea for a high octane imperial stout—what would become the recipe for Brooklyn Black Chocolate Stout—and the partnership was born. As the years went by, Oliver's star would continue to rise, along with Brooklyn Brewery's. Today, Garrett Oliver is a world-renowned beer expert, the author of multiple books on brewing—including The Oxford Companion to Beer—and, as of 2014, the recipient of the coveted James Beard Award for Outstanding Wine, Beer or Spirits Professional. But despite his beer-star status, Oliver is still right where he was twenty years ago, brewing up a spate of great recipes in Williamsburg, Brooklyn.
The Beers
Brooklyn Lager
Brooklyn Brewery's lineup is star-studded, but among those stars, its flagship brew, Brooklyn Lager, still shines especially bright. An antidote to the InBev corn beer, Brooklyn's is a Vienna style lager that proves not all lager's are created equal. The caramel malts come through prominently in this beer, both on the palate and in the finish; however, dry-hopping with Cascade hops helps balance the malt sweetness with a clean bitter quality, not enough to give the hop-fiends their piney, citrus fix, but enough to balance this beer nicely. This well-balanced lager is among the most versatile beers on the market—rain or shine, sweat or snow, Brooklyn Lager is a beer that goes down easy, but has enough going on to make you stop and savor. And at 5.2%, its certainly a sessionable beer: sit down and have a few.
Black Chocolate Stout
If Brooklyn Lager is a sessionable 'Man for All Seasons,' Black Chocolate Stout is Brooklyn Brewery's hard-hitting winter specialist. This Imperial Stout has no less than six different malt varieties, Willamette and Fuggle hops, and clocks in at a whopping 10% alcohol by volume. This imperial stout pours a deep, inky black with a light brown head, and good head retention. As you might expect with six different varietals, this beer is dominated by the malt, and its flavors are complex, including notes of toffee, black coffee, burnt sugar and, of course, dark chocolate. This beer is a fantastic night cap, and its combination of coffee and chocolate flavors pairs well with desserts. In fact, if you have a sweet tooth next to your 'beer tooth,' grab an imperial pint glass, break out the vanilla ice cream, and make yourself a Black Chocolate Stout float—trust us, you won't regret it.
Sorachi Ace
Although it has not been around as long as some of Brooklyn Brewery's other offerings, perhaps no other beer highlights Garrett Oliver's status as a true brewing visionary better than Brooklyn's now-year-round saison, Sorachi Ace. This farmhouse ale is named after a hop that was created in the 70's, a cross between Czech Saaz, British Brewer's Gold, and the Japanese hop Beikei No.2. After many years of being discounted as "odd" Sorachi Ace was finally again planted in Washington in 2008, Garrett Oliver took notice, and the Sorachi Ace saison was born. A combination of pilsner malt, Belgian yeast, Perle hops and, of course, Sorachi Ace hops, this 7.2% beer is, on the one hand, a classic saison, and on the other, a showcase of a unique hop varietal. Dry-hopping with Sorachi Ace lets the hop's unique aromatics come through even more, adding to the crisp refreshing nature of saisons notes of lemon peel in the finish. Sorachi Ace is a wonderful chimera of a beer, both classic saison, and unique hop showcase.